Meet the Host
Mark L. Walberg
Talk-show host, game-show host, comedian, and executive producer would all be acceptable titles for this man who started his television career as a "gofer" at Dick Clark Productions.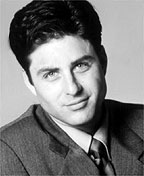 Mark Walberg: Email him your 'Big Idea.'
It was while working as an assistant at Dick Clark Productions that Mark had the opportunity to "fill-in" for the comedian who was supposed to warm up the studio audience. The regular guy didn't show, forcing Clark to give "that funny runner" a shot with the crowd.
It wasn't long before Mark was on-camera as the announcer/sidekick on Lifetime's Shop 'til You Drop. Nearly a decade later, that program still can be seen on Pax TV. Mark moved on to hosting Burnt Toast, an extreme sports magazine show for ESPN. It was there that Brandon Tartikoff noticed his work. In 1995, Mark Walberg debuted in syndication, marking the first program to be launched under the new alliance of stations from Fox and New World Entertainment. Out of nine competing "freshman" talk shows that year, Mark Walberg outlasted them all and aired 175 hours of issue-based talk television.
Next for Mark was a chance to show his more comedic side with the comedy/game show The Big Date for USA Network. After two seasons of matchmaking, Mark went back to the extreme sports world as the anchor for AXN-Action TV airing in prime-time, five nights a week on the Fox Family Channel. He could also be found hosting comedy field pieces for ABC's The Big Moment and as one of KABC's Post-Academy Award Show field reporters. This summer, Mark can be found hosting Honeymoon Challenge, a prime-time special on The Travel Channel.


· Meet the Panelists
· Show Description
· Rules and Prizes
· Daily Winners
· How to Play
· Troubleshooting
· Be a Contestant

---
SPONSORED LINKS
Gateway.com: Great PCs and more @ Gateway.com
IBM Software: Different world. Different software.
CoolEmail: Get voice, fax and email all in one place!
Webstakes: Click Here For A Chance To Win $100,000!
MovieTickets.com: Find a showtime in no time at MovieTickets.com!

---
FEATURED LINKS
Call for Help: Build a website with our free Web Workshop
Internet Tonight: Napster tips, tricks, and news
Superguides: Downloads, Linux, MP3s, viruses, and more
---
Home | Shows | Interact | Search | Get ZDTV | About Us | Site Help | News
Big Thinkers | Call for Help | CyberCrime | Digital Avenue | Fresh Gear | GameSpot TV | Internet Tonight | The Money Machine | The Screen Savers | Silicon Spin | Working the Web | You Made It | ZDTV News | ZDTV Radio
---
Copyright © 1997 - 2000 ZDTV LLC. All Rights Reserved.
Use of ZDTV.com is subject to certain Terms and Conditions. We respect your privacy.